Laser Hair Removal Benefits.
10 Year Results
Safe for all skin types
Faster than salon lasers
Can still enjoy the sun before, during and after treatment
Fewer sessions to hair-free
Alexandrite Nd/YAG
The only solution for all skin types.
How does Laser Hair Removal work?

Beauty by Dr. Wagner only offer hair removal with a special Alexandrite Nd/YAG Laser, which requires a medically trained technician to operate correctly. The results are outstanding and can provide hair free comfort for up to 10 years.

The Alexandrite Nd/YAG laser is the only hair removal laser suitable for people with Fitzpatrick skin type IV-VI, which means people of colour, or those with very dark complexion. It is also the only laser system that can still be safely used during the summer months.

You can pay per session, so treatments are both affordable and accessible.
Prices range from 70 CHF for bikini sides to 187 CHF for lower legs.


The Best Laser Hair Removal
Right In the Heart of Basel
---
Fast, Effective Laser Hair Removal
Become hair-free where it matters most.
---
Fast, safe results. Virtually pain-free treatment, and fewer sessions, means less time under the laser. Book a free 15 minute test session to discuss your goals and see how the laser performs for yourself.
Quick Facts about Laser Hair Removal
How long does Laser Hair Removal take?
Treatment time: this is dependant on the area being treated.
Many people have multiple zones lasered at once, for small areas it can take as little as 10 minutes, up to 90 minutes for multiple zone sessions



How quickly can I expect Results?
Typically, the follicles treated will shed their hair within a week of treatment.
With that time frame, assuming you need 5 sessions in total to become completely hair free in your desired zone (often spaced 4 weeks apart), you should expect to see a complete result within 21 weeks of your first session.




What downtime should I expect?
No downtime is required, however sun exposure should be minimised in the days following treatment. Your specialist will discuss this with you at treatment time.
We are happy to welcome Men for Laser Hair Removal currently during normal office hours.
---
Please make sure when booking that your appointment falls within the following times. Mo-Fri: 08:00 - 15:00
---
Please Note : Intimate zone hair removal including the buttocks area is currently not available for men.
---
How Much does Laser Hair Removal Cost?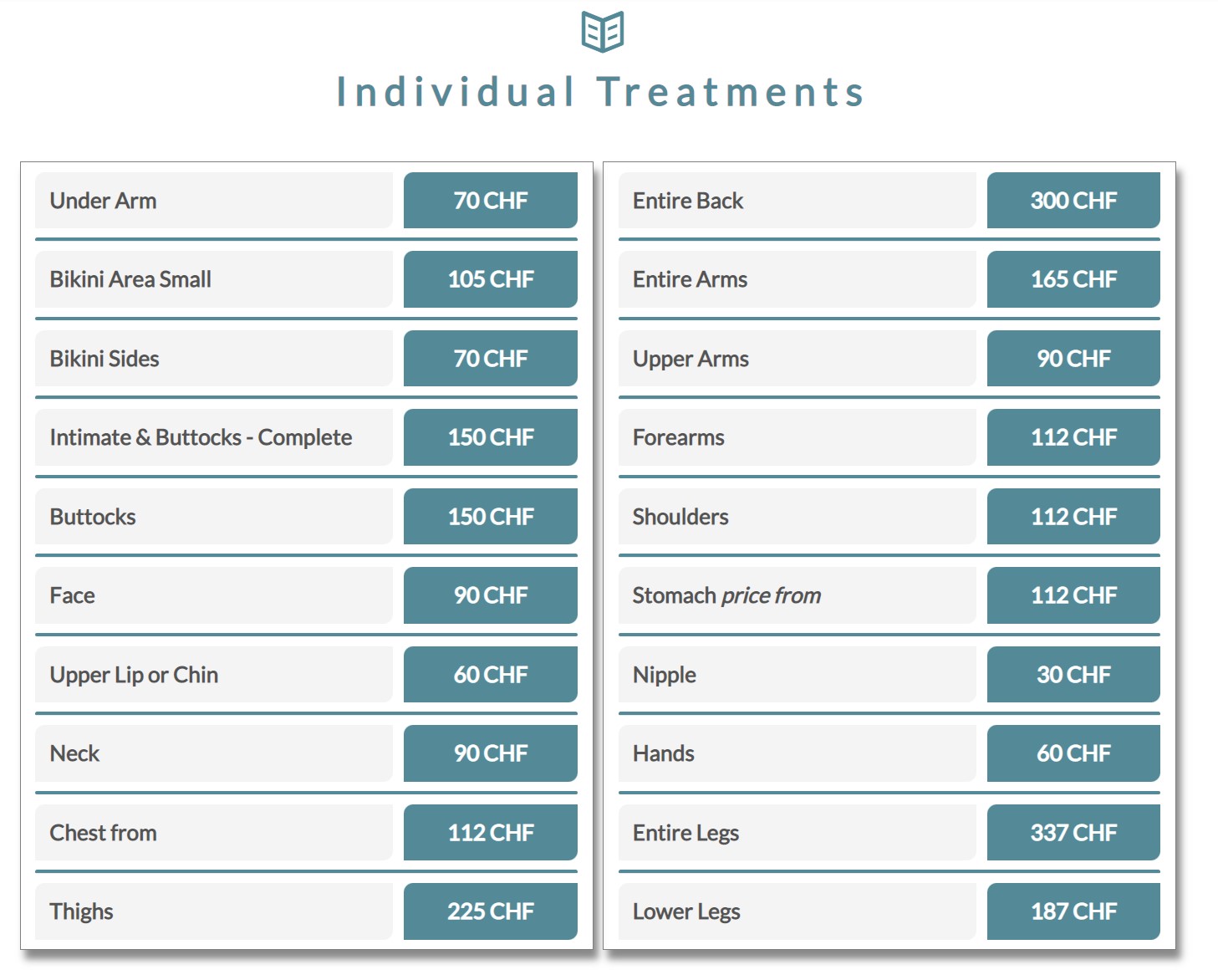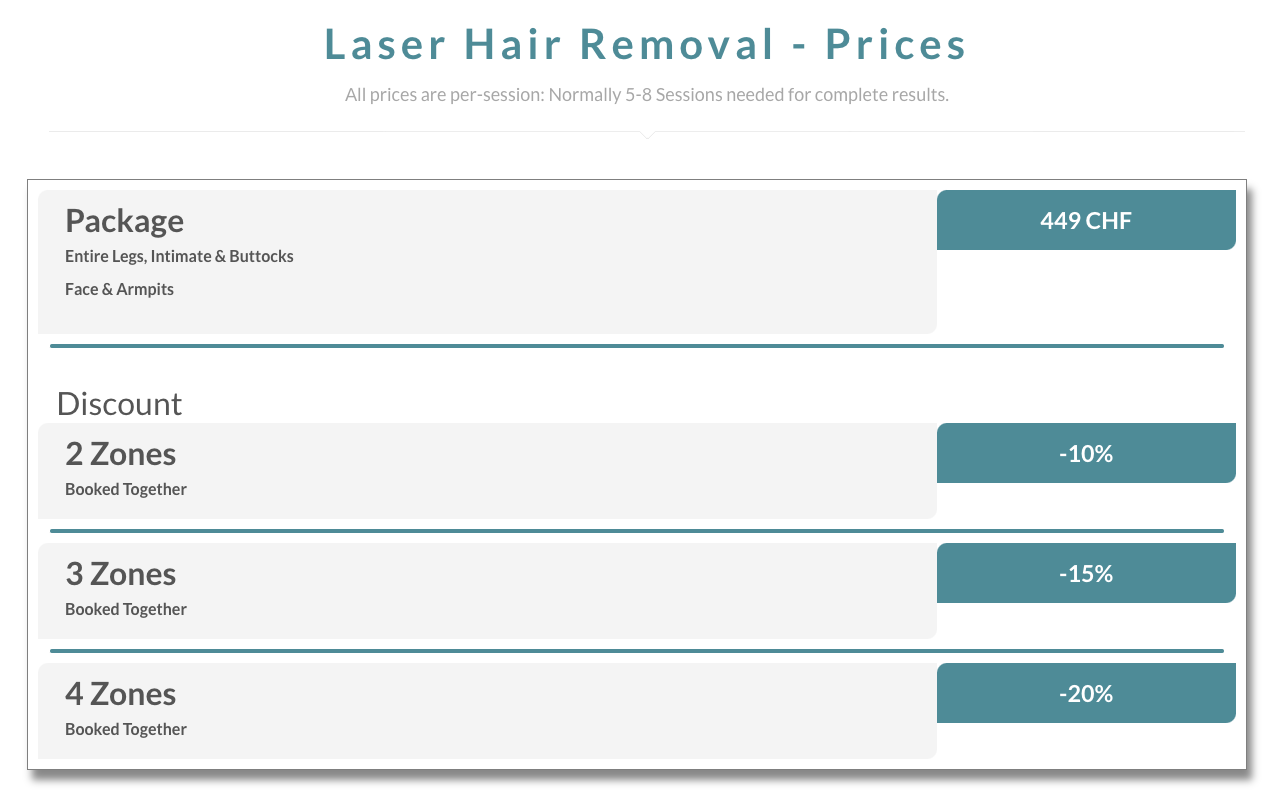 Hair Removal Packages
---
Full Body : 449 CHF
---
2 Zones Pack : -10% off
---
3 Zones Pack : -15% off
---
4 Zones Pack : -20% off
Individual Treatments
---
Under Arm : 70 CHF
---
Bikini Area Small : 105 CHF
---
Bikini Sides : 70 CHF
---
Intimate Complete : 150 CHF